India bans onion exports after eye-watering price rise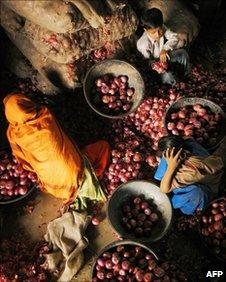 India's government has banned the export of onions after the vegetable doubled in price in the past week.
The rise has been blamed on unusually heavy rains in growing areas, as well as on hoarders and speculators.
Prices have jumped to 70 rupees ($1.55; £0.99) per kg from 35 rupees last week. The ban is until 15 January and India is importing onions to ease shortages.
Onions are a basic ingredient in many Indian dishes - soaring prices in the past have sparked unrest.
High prices of essential commodities such as onions have previously sparked unrest and helped bring down the national government in 2004.
Agriculture Minister Sharad Pawar told reporters in Delhi on Tuesday that the situation would be back to normal in two to three weeks.
Imports of onions have begun arriving in India from its neighbour and rival Pakistan, officials say.
As many as 13 truckloads carrying dozens of tonnes of onions had crossed the border at Wagah to supply northern Indian markets, a senior customs official in Amritsar told the Press Trust of India.
Indian onion crops have been damaged by unseasonal rains in the bulk producing western states of Maharashtra and Gujarat and in southern states.
"The November rains hit us in two ways - they not only destroyed our ready stock but also destroyed the seeds and saplings which might have been used now for a February crop," onion farmer Prabhakar Bodke in Maharashtra told the BBC.
"I lost nearly 70% of my onion stock and about 50% of saplings. Even if exports are stopped farmers will not benefit. It is going to be hard for us till August or September next year unless the government steps in to ensure a good price."
The BBC's Prachi Pinglay in Mumbai (Bombay) reports that shopkeepers say they are varying their onion prices in line with fluctuating market rates.
"Customers are complaining but what can we do? People who used to buy one kilo now buy only half a kilo or as and when they need it instead of stocking it," one grocer, Karan, told the BBC.
The rising cost of living is a pressing concern for most Indians.
Food price inflation has retreated over recent months, but remains at a high of nearly 10%, a worry for the ruling Congress party ahead of a number of important state elections next year.