Isaf investigates deaths of five Afghan civilians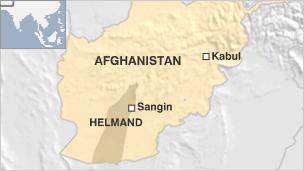 The Nato-led International Security Assistance Force (Isaf) has said it is investigating the deaths of five civilians in southern Afghanistan.
Their bodies were discovered after a firefight between troops and insurgents hiding in a compound in the Sangin district of Helmand province, it added.
An Isaf spokesman described the deaths as a "tragedy" and blamed insurgents for using innocent civilians' homes.
The civilian death toll has risen 20% in the first 10 months of this year.
Preliminary figures released by the UN showed the conflict in Afghanistan had led to a total of 2,412 civilian fatalities and 3,803 injuries.
More than three-quarters of the civilian casualties were the result of attacks by insurgents - an increase of 25% compared to last year.
Casualties attributed to foreign troops and the Afghan security forces meanwhile dropped by 18%, the quarterly UN report said.
In its statement, Isaf said insurgents had attacked coalition forces in Sangin "with small arms fire and machine guns".
"Initial reports indicate, after gaining positive identification of the insurgents' position, coalition forces engaged with direct and indirect fire," it added.
"Following the engagement, coalition forces conducted a battle damage assessment and discovered five civilian casualties."
Lt Col Patrick Hynes, the director of Isaf's joint operations centre, said: "This is a tragedy. We are aware that insurgents purposefully stage attacks against friendly forces using innocent civilian's homes."