Sri Lanka releases 100 Tamil Tiger rebels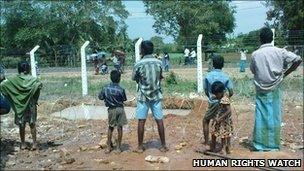 The Sri Lankan government has released some 100 former Tamil Tiger rebels to mark Christmas Day.
It is the latest group to be freed from camps where the ex-rebels were held after they were defeated last year.
The 98 men and two women were released during a ceremony in the northern town of Vavuniya.
The government says 5,000 former rebels are still held in the camps, but international human rights groups and the media have not been given access.
About 250,000 Tamils were initially held in military-run camps after fleeing the war zone during the government's final offensive against the Liberation Tigers of Tamil Eelam (LTTE) in early 2009.
Many complained about poor sanitary conditions, and the Sri Lankan authorities were criticised for detaining them for too long.
One of the two women released on Saturday, Shakila Sathasivam, told the BBC she had been detained after being injured while fighting with the rebels.
She said she had benefited from the counselling and training she had received at a rehabilitation centre.