Afghan conflict: Turkish workers kidnapped in Paktia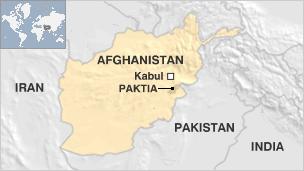 Gunmen have kidnapped four Turkish road workers and their local driver in Afghanistan's Paktia province, close to the Pakistan border, officials say.
They were snatched after a visit to a construction project in the Dand Wa Patan district, said provincial official Abdul Rahman Mangal.
He said they had been taken to an unknown location.
Paktia region, near Pakistan's lawless Tribal Areas, is said to be a stronghold for several militant groups.
No organisation has said it carried out the kidnap.
Abductions have become big business in recent years in Afghanistan, among both Islamist militant groups and criminal gangs.