Heavy fog disrupts travel in northern India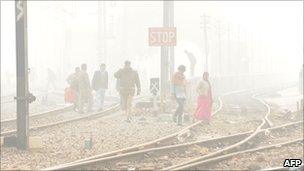 Heavy fog over northern India has disrupted train and flight schedules for the past three days.
On Monday, dense fog enveloped the Indira Gandhi International Airport in the capital, Delhi, leading to delays and diversions of more than 70 flights.
The railways rescheduled at least five trains and delayed 55 others due to low visibility.
Tens of thousands of passengers have been left stranded at Delhi airport and the three major railway stations.
Fog descended on the airport on Sunday night and gradually became dense, forcing airport authorities to implement low visibility procedure, news agency Press Trust of India reported.
On Monday morning, around 23 flights coming to Delhi were diverted to nearby airports, the agency quoted an airport official as saying.
More than 100 flights were affected by fog on Sunday with more than 40 flights, including 14 international ones, being diverted. At least 38 flights were cancelled.
Rail travel was equally hit by the fog.
At least 100 trains were delayed by several hours on Sunday, leading to chaos at railway stations.
The meteorological department has predicted foggy days ahead which means the disruptions will continue.
Related Internet Links
The BBC is not responsible for the content of external sites.