UN suspends food aid after Pakistan suicide bombing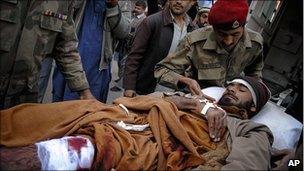 The UN World Food Programme (WFP) has suspended food distribution in a tribal district in Pakistan where 45 people died in a suicide attack on Saturday.
An official told the BBC the suspension was temporary and that distribution would resume as soon as possible.
Correspondents say the WFP announcement means that some 300,000 impoverished villagers are struggling to feed themselves.
A bomber blew herself up near a large crowd receiving food aid in Khar town.
The town lies in the north-western Bajaur area.
The region is close to the Afghan border and is a stronghold of the Taliban who said they carried out the bombing.
"As of now, we are in contact with the authorities both in Peshawar and in Khar and our intention is to reopen the four WFP hubs in Bajaur region as quickly as possible," WFP spokesman in Islamabad, Amjad Jamal, told the BBC.
"Such situations have arisen in the past, but we have always resumed our operations within two hours to 36 or 48 hours of the suspension, depending on the level of security threat."
Mr Jamal said Saturday's blast took place at a security post about 600m away from the WFP distribution hub.
"We had to close the place because it was put under curfew after the blast.
"We then suspended operations at the rest of our three hubs in Bajaur as well, as a precautionary measure," he said.
The WFP project in Bajaur feeds 41,000 families - or 300,000 people - who returned to the district from displaced people's camps elsewhere in the country.
They came back even though their livelihoods had been destroyed by fighting between Pakistan troops and insurgents.
Pakistan's Taliban said they ordered the attack on the distribution centre because those using it - displaced members of the Salarzai tribe - had supported the Pakistani military.
An estimated 300 people were queuing for food at the time, with reports saying at least 100 people were injured.
US President Barack Obama condemned the attack as "outrageous".
Saturday's bombing was the latest in a string of recent attacks in Pakistan's north-west.
The tribal district of Bajaur has seen several military operations to clear it of insurgents.
The army had previously declared the operations a success and the area safe for the displaced to return to.
Pakistani Prime Minister Yusuf Raza Gilani said those responsible had no regard for humanity or religion, and that the fight against militants would continue.
The attack also came as Pakistan's military took action against militants in Mohmand, an adjacent tribal region, killing an estimated 40 rebels.
Related Internet Links
The BBC is not responsible for the content of external sites.