Pakistan drone attack 'kills 18 militants'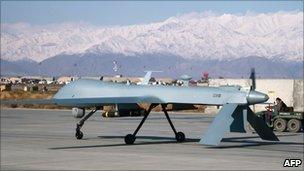 Missiles fired by a suspected US drone have struck a vehicle in north-west Pakistan killing at least 18 militants, officials say.
The strike took place in Mir Ali village, 25km (16 miles) from Miranshah, the main town in North Waziristan district.
US drone attacks are fairly regular in North and South Waziristan which are Taliban and al-Qaeda strongholds.
More than 100 such attacks occurred in 2010, most of them in North Waziristan.
Officials told the BBC that the first drone fired two missiles at a vehicle, missing it narrowly.
It was joined by two more drones that fired six missiles, killing the four men who had abandoned the vehicle. All four were foreign militants, officials say.
Several minutes later, a group of 14 militants from the group led by Hakimullah Mehsud were killed when a vehicle taking them to the site of the earlier attack was hit by missiles from another drone, they said.
There has been no independent confirmation of the incident. Militant groups often dispute official death tolls.
Drone strikes are credited with killing some top insurgents but are also blamed for civilian deaths.
The repeated attacks have angered Pakistani public opinion. The government criticises such strikes, saying they merely fuel support for militants.
But recent leaked diplomatic cables on the Wikileaks website suggest that Pakistani officials privately condone such strikes.
The US military and the CIA do not routinely confirm that they have launched drone operations, but analysts say only American forces have deployed such pilotless aircraft in the region.
Related Internet Links
The BBC is not responsible for the content of external sites.