Afghan hospital chief sacked following suicide attacks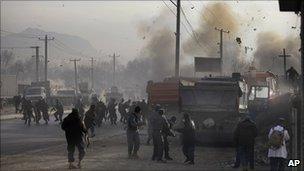 The head of Afghanistan's military hospitals has been dismissed following a suicide attack earlier this month on a military training centre in Kabul.
Five officers of the Afghan National Army died and 14 soldiers were injured in the attack.
Surgeon General Ahmad Zia Yaftali has denied accusations by the defence ministry that he neglected soldiers wounded in the attack.
He also denies nepotism, embezzlement and racketeering.
"I can confirm that the general was removed for not being able to look after our soldiers when we are fighting a war against the Taliban," a senior official with the defence ministry - who requested anonymity - told the BBC.
"Accusations against [Surgeon General Yaftali] also include corruption, embezzlement and racketeering. The ministry has launched an investigation against him."
In a news conference shortly after his suspension, Surgeon General Yaftali strenuously denied any wrongdoing.
The defence ministry described the news conference as illegal and said it will take legal action against him.
Surgeon General Yaftali was the director of the 400-bed Charsad Bestar, one of the largest military hospitals in the country, where many of those injured in the attack were taken for treatment.
The immediate cause of his dismissal appears to be complaints made by some of the wounded soldiers and officers to the defence minister at Charsad Bestar Hospital after the attack.
Major Rahim was one of those taken to the hospital after the attack. He suffered gunshot wounds when he tried to help some of the wounded.
"Mr Minister, I was bleeding here and I shouted that I was going to die if I didn't get help urgently. But no-one was here to look after me,'' he is reported to have told the minister.
Defence ministry officials have also raised queries about the attack.
''Why were no ambulances sent?" one official asked.
"Why were ambulance helicopters not pressed into service to pick up the injured?''
Surgeon General Yaftali has been under pressure since he was implicated in a medical scandal in which medicines and other pharmaceutical supplies - totalling $42m (£27.2m) and meant for the army and police - went missing.
Defence Minister Abdul Rahim Wardak told the Associated Press news agency that Surgeon General Yaftali, along with three other top officials, were removed as part of an ongoing inquiry into the incident.
But on this issue also, he maintains his innocence.
"I reject any report about me and money or corruption," he told the BBC.
He said that he welcomed the defence ministry investigation as an opportunity to clear his name.