India boosts new year security against militant attack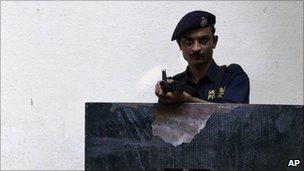 The Indian government has stepped up security measures after it said it had received information that militants were planning attacks.
It said the attacks were planned to take place during this weekend's new year celebrations.
Police in several major cities, including Delhi and Mumbai, as well as Goa, a popular tourist destination, have been put on high alert.
Nationwide security alerts have become a common part of life in India.
It is not possible to judge whether they are based on firm evidence or understandable caution.
Since November 2008 this country has lived in the shadow of the attacks on Mumbai (Bombay), in which 10 gunmen, allegedly from a Pakistani militant group, killed 166 people over the course of three days.
Many believe it is only a matter of when, not if, such a dreadful event occurs again on the streets of an Indian city.
The security forces are especially alert to danger during holidays and large public gatherings.
There were fears that the Commonwealth Games that took place in Delhi in October might be bombed.
Last week the Mumbai police issued pictures of four men it said were planning an attack over Christmas.
The latest warning is apparently based on intelligence reports that militants from the same group blamed for the Mumbai attacks, the Lashkar-e-Taiba, or Army of the Pure, had sent more men into India.
There is no way of verifying these reports.
Police have been told to be on high alert in major cities, tourist resorts and hotels.
Related Internet Links
The BBC is not responsible for the content of external sites.