Sri Lanka swine flu outbreak kills 22
By Charles Haviland
BBC News, Colombo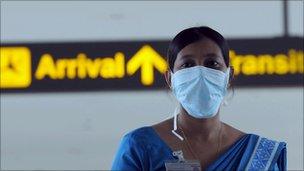 At least 22 people have died in the past two months from swine flu in Sri Lanka, officials say.
The current outbreak - the second since 2009 - has affected more than 370 people since late September.
Authorities, however, say there is no cause for panic and the virus is less virulent than the first wave.
An immunisation drive has been launched for high-risk groups, including pregnant women, health-care workers and those already suffering from chronic illnesses.
The authorities are also vaccinating the large number of pilgrims visiting a famous shrine in south-eastern Sri Lanka.
The flu has peaked this month, with 20 of the deaths occurring since late November.
One-third of the cases are reported to be in the capital, Colombo.
"It's nothing to panic about," the government's chief epidemiologist, Dr Paba Palihawadana, told the BBC.
Dr Palihawadana said most of those who have died had another infection already.
The government says the flu has been spread by the gatherings of families and friends popular at this time of year and also by unseasonal conditions of rain and flooding in much of the country.
The authorities are asking people not to engage in unnecessary travel around the island.
The government of neighbouring Maldives has urged its citizens to be cautious when visiting Sri Lanka and seek immediate medical advice if they develop a cough, cold or fever.
It is not advising against travel to the country, however.
Related Internet Links
The BBC is not responsible for the content of external sites.