Karnataka land deal immoral but not illegal - BJP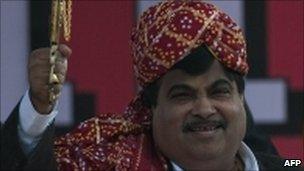 The leader of India's main opposition party has said Karnataka's chief minister acted immorally but not illegally over an alleged land scam.
Nitin Gadkari, president of the Hindu nationalist Bharatiya Janata Party (BJP), defended BS Yeddyurappa, who gave land to his family.
Mr Gadkari said the chief minister, who denies any wrongdoing, may have committed "minor mistakes".
Karnataka is the only southern Indian state where the BJP wields power.
Mr Yeddyurappa denies claims by political opponents he committed nepotism by selling government land to his two sons and relatives at knockdown prices.
The beleaguered chief minister faced intense pressure to resign over the affair in October when his government survived two votes of confidence.
Mr Gadkari told India's Hindi-language IBN7 channel on Thursday: "I agree that to take the land out from the reserved category and allotting the land to one's son is immoral but not illegal.
"I told him [Mr Yeddyurappa] to first return the land. He returned the land. I have told [Mr] Yeddurappa that sons and son-in-laws should be kept away from politics."
The BJP was accused of hypocrisy last week when it announced a series of nationwide protests against alleged corruption in the ruling Congress party.
The BBC's Geeta Pandey in Delhi says it is not unusual in the Indian system for the federal and state governments to allocate land at their discretion to various eminent personalities.
But Mr Yeddyurappa is alleged to have taken his discretionary powers to a new level by allotting large chunks of land to his immediate family.
Related Internet Links
The BBC is not responsible for the content of external sites.