Pakistan to fight US Mumbai lawsuit against spy agency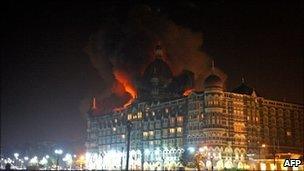 The Pakistani government says it will fight a lawsuit filed in the US against its intelligence agency.
The case against Inter-Services Intelligence (ISI) has been lodged by relatives of two American victims of the 2008 Mumbai attacks.
The attacks left 174 people - including nine gunmen - dead, and soured ties between India and Pakistan.
India blames Pakistan-based militant group Lashkar-e-Taiba for the gun and grenade attacks at several locations.
The case filed in Brooklyn, New York, alleges that the ISI was complicit in wrongful killing because it had nurtured Lashkar-e-Taiba.
Pakistani Prime Minister Yousuf Raza Gilani has already ruled out any possibility of the ISI chief General Ahmed Shuja Pasha appearing before a US court.
Late last year, Pakistan charged seven people in connection with the attacks, including the suspected mastermind Zaki-ur-Rehman Lakhvi, who is alleged to head Lashkar-e-Taiba.
After initial denials, Pakistan acknowledged that the attacks had been partially planned on its territory and that Mohammad Ajmal Amir Qasab, the sole surviving gunman, was one of its citizens.
Qasab was found guilty by an Indian court on charges including murder, waging war on India and possessing explosives and sentenced to death.