North Waziristan drone strike kills five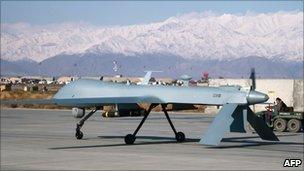 Five people have died in a US drone attack in north-western Pakistan, say officials.
At least two missiles fired from an unmanned plane hit a vehicle convoy in North Waziristan, near Miranshah town.
Security officials say all the dead in the attacks are militants - a claim that cannot be independently confirmed.
There have been more than 100 such attacks in the region this year, mostly in North Waziristan, which is seen as a haven for Taliban and al-Qaeda.
Friday's raid took place in the town of Ghulam Khan, about 15km (9 miles) from Miranshah, the main town of the tribal district along the Afghan border.
US drone attacks in Pakistan's tribal region have increased under the presidency of Barack Obama, often occurring several times every week.
Drone strikes are credited with killing some top insurgents, but are also blamed for civilian deaths.
The attacks have angered Pakistani public opinion. The country's government criticises such strikes, saying they merely fuel support for militants.
But analysts say Pakistani officials privately condone and probably provide intelligence for such strikes.
Pakistan's military has launched offensives in parts of the north-west, but the insurgents continue to mount attacks.
The US does not routinely confirm that they have launched drone operations, but analysts say only American forces have deployed such aircraft in the region.
Related Internet Links
The BBC is not responsible for the content of external sites.