Pakistan drone raid kills at least 15 in N Waziristan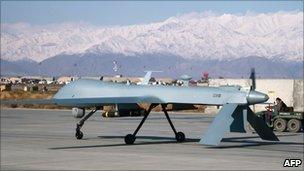 Three US drone attacks have killed at least 15 people in Pakistan's North Waziristan tribal region, local officials say.
Two missiles targeted militants in an area just north of Miranshah town, reports say, while the third struck in Datta Khel, west of the town.
The death toll cannot be independently confirmed and it is not clear whether all those killed were militants.
The area, near Afghanistan, is seen as a haven for Taliban and al-Qaeda.
On Friday, five people died in a US drone attack, officials said. That attack struck a vehicle convoy near Miranshah.
There have been more than 100 such attacks in the tribal region this year. US drone attacks have increased under the presidency of Barack Obama, often occurring several times every week.
The US does not routinely confirm that it has launched drone operations, but analysts say only American forces have deployed such aircraft in the region.
Related Internet Links
The BBC is not responsible for the content of external sites.