Assam Ulfa leader Arabinda Rajkhowa freed from jail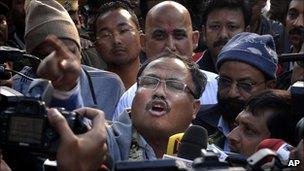 A separatist leader in India's north-eastern Assam state has been released from prison amid growing speculation about peace talks between his rebel group and the central government.
Arabinda Rajkhowa leads the United Liberation Front of Assam (Ulfa), which has been fighting for an independent homeland for more than 30 years.
Crowds of supporters gathered outside the jail to welcome his release.
He had been in prison after being arrested in Bangladesh a year ago.
He was released from jail in the state capital of Assam, Guwahati, where he was being held on charges of sedition.
Ulfa rebels have fought for a separate Assamese homeland since 1979.
Rajkhowa, 54, said Ulfa was ready for peace talks with the Indian government.
"It is the mood for peace among the people of Assam that has brought us to this situation today, where we are set to begin a peace dialogue with the Indian government," he was quoted as saying by the Associated Press news agency.
However, other members of the Ulfa leadership are known to oppose talks.
In 2009, the government in Bangladesh launched a crackdown on Indian separatists operating out of Bangladeshi territory.
More than 50 rebel leaders and activists have been handed over to India since then, while others have been arrested while trying to enter the country to avoid capture in Bangladesh.
Related Internet Links
The BBC is not responsible for the content of external sites.