Bofors arms deal: Italian was 'paid kickbacks'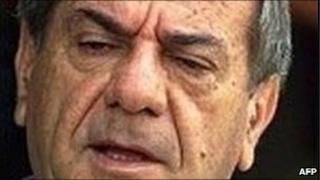 India's income tax department has ruled that illegal commissions were paid to an Italian businessman accused over an arms scandal which ended Rajiv Gandhi's term as prime minister 20 years ago.
It said over $9m (£6m) in kickbacks were paid to Ottavio Quattrocchi and an Indian arms dealer, Win Chadha.
In 2009, India dropped a graft case against Mr Quattrocchi and withdrew his name from Interpol's wanted list.
The main opposition BJP has now demanded the case be reopened.
Mr Quattrocchi was an accused in the high profile Bofors corruption case, one of the longest-running criminal investigations in India.
The Swedish firm AB Bofors was alleged to have paid $1.3bn in bribes during the sale of 400 howitzers to India in 1986, when Rajiv Gandhi of the Congress party was prime minister.
Politically sensitive
The Bofors issue is extremely sensitive politically for the governing Congress party, as Mr Quattrocchi was known to be a friend of Italian-born party leader Sonia Gandhi.
Now an income tax investigation has found that commissions were paid to Mr Quattrocchi and a now deceased Indian arms dealer Win Chadha, and that tax should be paid on such income.
"Inaction in this regard may lead to a non-existent undesirable and detrimental notion that India is a soft state and one can meddle with its tax laws with impunity," the Income Tax Appellate Tribunal said in its order.
Correspondents say the ruling will embarrass the Congress party.
A party spokesman told reporters it will give a response after examining the income tax ruling.
The main opposition BJP demanded that the case against Mr Quattrocchi be reopened, insisting that there had been a "huge cover-up operation" while closing the case against him.
The Italian businessman has always denied any involvement, arguing he was the victim of a political vendetta in India.
Indian investigators have tried unsuccessfully for much of the past decade to get Mr Quattrocchi extradited to India.
The case contributed to the election defeat of Rajiv Gandhi in 1989, two years before he was assassinated.
In 2004, he was posthumously cleared of any wrongdoing in the deal.