India ex-captain opts out of IPL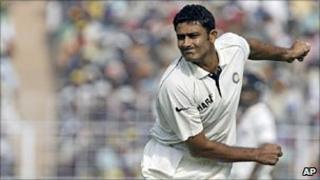 Former India cricket captain Anil Kumble has pulled out of this weekend's Indian Premier League auction, citing business and other commitments.
The legendary leg-spin bowler captained Royal Challengers Bangalore (RCB) in two IPL seasons in 2009 and 2010.
He was responsible for his team's IPL comeback, leading it to the final of the Twenty20 tournament in 2009.
Kumble, who retired from international cricket in 2008, is India's leading Test cricket wicket-taker.
"I wish to withdraw from the players' auction for IPL scheduled for the 8 and 9 January 2011 in Bangalore," Kumble said in a statement.
"I have enjoyed my stint at the IPL so far and thank all concerned for the support extended."
He said he had various business commitments, including his new role as a cricket administrator in his native Karnataka state.
Kumble, 40, was not retained by the RCB for this season and was among the players put up for auction.
The IPL started in 2008 and has become a multi-billion dollar industry, attracting some of India's wealthiest businesspeople to its franchises.
Twenty20 attracts many of the world's top cricketers.