Bihar politician stabbed to death by woman visitor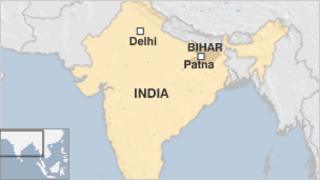 A legislator in the northern Indian state of Bihar has been stabbed to death by a woman visitor at his home.
Rajkishore Kesri, of the state's governing Bharatiya Janata Party, was meeting visitors when the attacker pounced, police said.
The woman is a married teacher who had accused Mr Kesri of sexual harassment, according to Indian media.
She is in hospital after Mr Kesri's supporters beat her up, the director general of police told the BBC.
Mr Kesri's spleen burst, leading to his death, he added.
Witnesses said that when her turn came to speak to the lawmaker, the woman pulled a knife from under her shawl and stabbed him in neck, stomach and chest.
Police said that the woman had lodged a sexual harassment complaint in May last year against Mr Kesri.
She told police she had also had a two-year relationship with the politician.