Indian cold snap death toll rises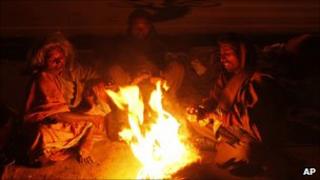 The death toll in the cold snap that has disrupted life across northern India has reportedly risen to 30.
Six more people died in Uttar Pradesh state, where most deaths have occurred.
Delhi has been badly hit by the cold, along with Indian-administered Kashmir, and the states of Haryana and Punjab.
Pakistan has also been feeling the effects of extreme cold weather. Temperatures in parts of the north have dropped to -18C, and roads are blocked by snow in several places.
In Leh in Indian-administered Kashmir, temperatures remained at -23C for the second day in a row.
Sub-zero conditions have also been recorded at the Kashmir tourist resorts of Gulmarg and Pahalgam.
Temperatures in Delhi dipped to 3.7C on Tuesday morning, the city's lowest this winter.
Two weather-related deaths have been reported in the Indian capital since last week.
Schools have been shut in Bihar and Rajasthan because of the temperatures.