Bangladesh tries 800 soldiers for bloody 2009 mutiny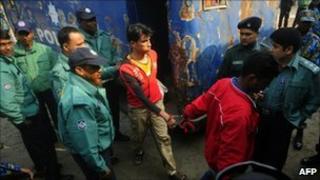 Some 800 soldiers have gone on trial in Bangladesh charged with murder and other crimes during a mutiny in 2009.
More than 70 people, most of them officers, were killed during the bloody uprising by border troops.
The mutineers blamed their revolt on poor pay and conditions, and years of mistreatment by corrupt officers.
The defendants include about 20 civilians. The trial - which is expected to last up to a year - was adjourned until 3 February.
Judge Jahirul Haq said "on that day we will read out the charges against all the defendants in full", AFP news agency reported.
Killing zone
It took several hours for defendants, handcuffed and shackled, to file into the specially built temporary civilian courtroom in the capital, Dhaka. They arrived in a fleet of prison vans.
The defendants face charges ranging from murder to conspiracy, looting weapons and arson. Those accused of murder face the death penalty if found guilty.
The 30-hour revolt by Bangladesh Rifles (BDR) troops began on 25 February 2009 in Pilkhana, the British-era camp in the heart of Dhaka.
It took Bangladesh to the brink of nationwide conflict as it spread to camps elsewhere before the border troops gave up.
BDR soldiers turned the Pilkhana camp into a killing zone. They shot and stabbed some of their commanding officers to death. Others were hacked to pieces or burnt alive.
The mutilated bodies were then dumped in mass graves, sewers and the camp's incinerator.
Deaths in custody
"This case is unique, there has been nothing like it anywhere in the world," Judge Haq said. "We can assure everyone that we will make sure of 100% justice."
But human rights organisations fear the prisoners may not receive a fair trial.
The investigation has been overshadowed by claims that suspects have been tortured and some even killed - accusations rejected by the authorities.
But officials admit that at least 50 border guards detained for questioning have died in custody.
Rights groups doubt the military's account that some of the detainees committed suicide, while the rest had heart attacks or died of other illnesses.
The mass trial in Dhaka is the largest in Bangladeshi history. Well over 1,000 people are expected to testify.
Hundreds of soldiers have already been tried and convicted in military courts on lesser charges relating to the mutiny.