India report lists options over 'Telangana state'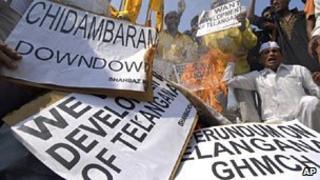 An official report on whether India should create a new southern state, Telangana, has outlined a range of options amid calls for calm.
Andhra Pradesh, from which the state would be carved, saw violent protests for and against the proposal last year.
The report offers six options, ranging from more powers for Telangana within Andhra Pradesh to full-blown statehood.
India's ruling Congress party is also in power in Andhra Pradesh. Ministers have urged people there to stay calm.
The BBC's Soutik Biswas in Delhi says the report does nothing to resolve deep differences over the Telangana issue and political consensus looks unlikely.
Our correspondent says the state is bracing for more strikes and protests in favour of the proposed new state.
The party leading the demand for statehood, the Telangana Rashtra Samiti (TRS), is sticking to its position. One of its leaders, KT Rama Rao, said: "Other than Telangana with Hyderabad as the capital, nothing will be acceptable to us."
Opponents of the move are unhappy that Hyderabad, home to many major information technology and pharmaceutical companies, could become Telangana's new capital.
The final decision on a new state lies with the Indian parliament. But the state assembly must also pass a resolution approving its creation.
The report by former Supreme Court Chief Justice BN Srikrishna was delivered to the Home Ministry a week ago. Its release on Thursday followed a government meeting with major parties, which was boycotted by the TRS.
India's main opposition Bharatiya Janata Party (BJP) and the Telugu Desam party also did not attend.
Among other things, the 461-page report suggests:
A separate Telangana state with Hyderabad as its capital
A united Andhra Pradesh with more powers for the Telangana region
Splitting Andhra Pradesh into Telangana and another region, Seemandhra (comprising the Rayalseema and coastal areas). Each would have its own capital with Hyderabad becoming a union territory
"Maintaining status quo"
Mr Srikrishna said that while his committee had listed six options, it regarded three of them as "non-practicable".
These included maintaining the status quo and splitting up the state into Seemandhra and Telangana, he said.
Federal Home Minister P Chidambaram appealed to political parties to read the judge's report with an "open mind" and give it their "impartial consideration".
He hoped the report would generate an "informed and mature" debate on the issue.
Deep divisions have emerged over the Telangana issue in the past year.
In December 2009, India's Congress party-led government promised that the new state would be formed but later said more talks were needed.
The announcement prompted widespread protests in the state, and a student committed suicide in support of the formation of Telangana.
Correspondents say the government is nervous about any strong reaction to the report and fears fresh violence in the state following its publication.