Afghan suicide bomber kills 17 in bath house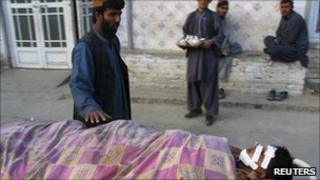 At least 17 people have been killed in a suicide attack in a crowded public bath house in Afghanistan's southern Kandahar province, officials say.
They say 23 others were injured in the attack, which took place in the town of Spin Boldak, on the Pakistan border.
Officials said the bomber killed his target - a police commander who was inside the building at the time.
Meanwhile, Nato says three of its troops have been killed in two separate bombings in the south and east.
One soldier died in the south while two others were killed in the east, the alliance said.
'Inhumane attack'
The blast in Spin Boldak came as the bath house was packed with people getting ready for Friday prayers.
Border police official Gen Abdul Raziq told the BBC: "Today, around 1150 (0720 GMT), there was a suicide attack in Spin Boldak targeting a local public bath. The target of the attack was a border police officer, Ramazan. He has been killed, along with 17 others, and 23 others have been injured."
The Taliban said they carried out the attack.
The town is situated some 70 miles (110km) east of Kandahar, capital of a province that has long been a Taliban stronghold.
A local Afghan intelligence source in Spin Boldak told the BBC that Ramazan always used the bath house, on the town's main road, ahead of Friday prayers.
Most of the other dead and wounded are believed to be civilians.
The BBC's Bilal Sarwary, in Kabul, says that Afghanistan's security institutions have been targeted in recent weeks in a wave of attacks on the country's army and police who will eventually take over security responsibilities from international forces.
A statement from the governor of Kandahar's office called the attack un-Islamic.
"This brutal and inhumane act was the work of the enemies of Islam and humanity," said Zalmai Ayoubi.
Militants have attacked in Spin Boldak many times in the past. Friday's bombing is the bloodiest in many months.
It has also been condemned by President Hamid Karzai, a source close to the president told the BBC.