US vice-president in Afghanistan on surprise visit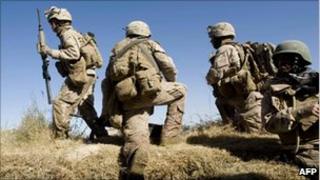 US Vice-President Joe Biden has arrived in Afghanistan on an unexpected visit which will see him hold talks with President Karzai and meet US troops.
White House Officials say that Mr Biden will assess progress in the key issue of handing over security from foreign to Afghan forces.
The US aims to begin withdrawing its troops in July.
But that timetable has drawn criticism from Republicans in the US Congress who caution against abandoning a key ally.
"The primary purpose of the trip is to assess progress toward the transition to Afghan-led security beginning in 2011, and to demonstrate our commitment to a long-term partnership with Afghanistan," a White House official told the Reuters news agency.
"We're not here to govern Afghanistan, we're not here to nation build, we're not here to secure Afghanistan for the Afghans. Those are responsibilities that belong to the Afghans.
"The only purpose of our mission now is to help put the Afghans in a position where they can fully assume the responsibilities of governing the country and securing the country," the official said.
President Karzai and his Western backers want Afghan security forces to assume security responsibility by the end of 2014.
Increasing dissension
Upon arriving at Kabul's airport aboard Air Force Two, Mr Biden flew by helicopter to the US Embassy for talks with Gen David Petraeus, chief of US forces in Afghanistan, and US Ambassador Karl Eikenberry.
Gen Petraeus said on Monday in an interview with the AP news agency that a recent commitment by a southern Afghan tribe to stand up to the Taliban showed that the military offensive in the region was making headway and was stifling the "central nervous system" of the insurgents.
Gen Petraeus said that the Taliban was losing ground in volatile Helmand and Kandahar provinces and that there was increasing dissension among their fighting ranks as their losses mounted.
The trip is Mr Biden's first time in Afghanistan as vice-president. He was last in the country in January 2009.
Correspondents say it comes at a time when violence is at its worst level in the country, with record casualties on all sides of the conflict and with the insurgency spreading from traditional strongholds in the south and east into once-peaceful areas in the north and west.