India lawmaker Dwivedi arrested for 'raping teenager'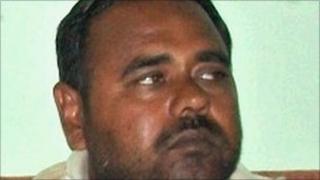 Police in the northern Indian state of Uttar Pradesh have arrested a lawmaker for allegedly raping a teenage girl.
Purushottam Naresh Dwivedi of the state's governing Bahujan Samaj Party was arrested in Banda district.
Mr Dwivedi denies the charge. He says he is diabetic and impotent and hence incapable of rape.
Authorities ordered his arrest after the state's Criminal Investigation Department (CID) submitted a report confirming the lawmaker's crime.
Two of Mr Dwivedi's aides who are also accused of raping the girl - Rajendra Shukla and Surendra Neta - were arrested on Wednesday.
Another accused, Ravan Garg, has absconded, police say.
Reports say the girl had just begun working for Mr Dwivedi as a domestic servant when she made the complaint.
She has been in jail since 12 December, when she escaped from Mr Dwivedi's house.
She was arrested on charges of theft on complaint from the lawmaker. She says she is innocent and campaigners say the theft charged are trumped up.
India's women and child development ministry has called for an investigation by the federal investigative agency, Central Bureau of Investigation (CBI).