India 'to cut Kashmir troops by a quarter'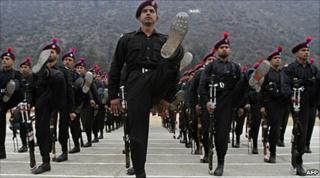 India's government has said it plans to reduce the number of security forces in Indian-administered Kashmir.
Home Secretary GK Pillai said the aim was to pull out 25% of troops from populated areas in the next 12 months as a confidence-building measure.
There was a mixed reaction to the announcement from Kashmiri separatists.
There are estimated to be between 300,000 and half a million Indian troops and police in Jammu and Kashmir, fighting a two-decade insurgency.
India's government has never released official figures on its forces in the region.
A good step?
In the summer, more than 100 people were killed in violent protests in the Muslim-majority Kashmir valley.
The withdrawal of security forces and the repeal of emergency laws have been the long-standing demands of separatists in the region.
"As a confidence building measure in Jammu and Kashmir, the strength of the security forces would come down by 25%," news agency Press Trust of India quoted the home secretary as saying.
"We would like to reduce it as soon as possible depending on the ground situation," he said in a speech at a university in the Indian capital Delhi. He did not say when such a withdrawal might start.
Mr Pillai said managing with local police would be the ideal situation.
He said if violence declined India would be able to "gradually reduce our presence and make sure that all forces are there only at the border for preventing infiltration."
The government was also considering giving Pakistani Kashmiris six-month, multiple entry permits to visit relatives on the Indian side, Mr Pillai said.
At the moment, they can only get a 15-day permit.
In Indian-administered Kashmir, separatist leaders were divided in their reaction.
Hardline separatist leader Syed Ali Shah Geelani dismissed the offer as "inconsequential" and demanded a complete withdrawal of Indian forces from Kashmir.
But Mirwaiz Umar Farooq, who leads the moderate faction of the All Party Hurriyat Conference, welcomed the announcement.
"We have long been demanding a phased withdrawal of Indian troops," he said. "It could be the first step towards that."
But he said the Indian government had failed to deliver on similar promises in the past.
Yasin Malik, chairman of the Jammu Kashmir Liberation Front, said they would wait and see.
There was also a mixed reaction from ordinary people.
A shopkeeper, Manzoor Ahmed, showed his cynicism by saying "we don't trust the Indian government. Even if they really withdraw some troops, they will bring in more from the other side."
But another businessman, Niyaz Ahmed, said "it is a good step provided it really happens."