Grameen's Muhammad Yunus in court for defamation case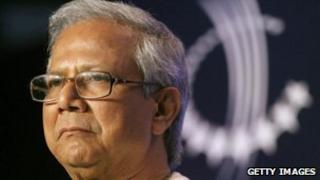 Microfinance pioneer Muhammad Yunus has appeared briefly in a Bangladeshi court accused of defamation.
The founder of Grameen Bank is charged over comments he made about Bangladeshi politicians in a 2007 media interview.
The Nobel peace laureate had been quoted as telling AFP news agency: "Politicians in Bangladesh only work for money. There is no ideology here."
The case was filed by a local politician, who said he had been defamed by the remarks.
Last week, the Bangladeshi government opened an investigation into Grameen Bank after a Norwegian probe cleared it of mishandling foreign aid.
BBC correspondents say the announcement of the investigation reflects increasing friction between Prime Minister Sheikh Hasina and Prof Yunus.
Ms Hasina is thought to be angry with him over his role during emergency rule from 2007-08, when he was seen as being close to the military-backed government and even tried to set up his own political party.
Bail granted
Prof Yunus's interview with AFP was published at the time in several newspapers.
On Tuesday, the banker was granted bail with a surety of 5,000 Bangladeshi taka (£50; $80).
He appeared for about 10 minutes at a court in the town of Meymensingh, some 100km (60 miles) north of Dhaka.
Court inspector Shahid Shoqrana told the BBC: "He need not appear in person in future hearings. The court has allowed his representative to appear in court in the future."
The next hearing is on 20 February.
AHM Khalequzzaman, a lawyer for Prof Yunus, told the BBC: "We appealed to the court to give him exemption from appearing in person in the future as he's an internationally renowned person and needs to travel a lot."
The case against Prof Yunus was filed in January 2007, following a complaint by a politician in Meymensingh.
The joint general secretary of the left-leaning Jatiya Samajtantrik Dal party said he had been defamed by the banker's comments.
Prof Yunus said in a statement to the BBC on Tuesday: "I appeared before a court today in response to a summons.
"I believe that the courts are here to deliver justice, and look forward to this matter being resolved soon. Since the matter is before the courts, it won't be appropriate to make any further comment."