Indian musicians eye Grammy glory
By Salim Rizvi
New York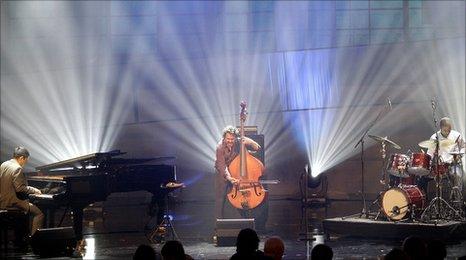 The selection committee of the prestigious Grammy music awards appears to be smitten by Indian music.
Last year Bollywood music director AR Rahman triumphed in two categories for his soundtrack to the Oscar-winning film Slumdog Millionaire.
This time round two New York-based Indian-Americans - Chandrika Krishnamurthy Tandon and Vijay Iyer - are short-listed.
In addition, a Delhi-based tabla player, Sandeep Das, has been nominated in the Classical Crossover category.
The Recording Academy presents Grammies annually to honour excellence in the music industry. The 53rd awards will be announced in Los Angeles on 13 February.
Both Tandon - a Sanskrit chant vocalist - and Iyer - a jazz pianist and composer - use Indian music prominently in their works.
Tandon has been nominated in the Best Contemporary World Music Album category, for her latest album Soul Call, a collection of ancient Sanskrit chants.
Iyer's album Historicity is nominated in the Best Jazz Instrumental Album category. It features Marcus Gilmore on drums and Stephan Crump on bass.
Although Historicity topped the US charts in 2009, at first Iyer, 39, says he could not believe he had won the Grammy nomination.
"It was a surprise. I don't really know much about the award process," he said.
"I knew that my album was submitted to the committee, and that they have a long list of nominees. Really, it was just good that enough people knew who I was and that they could recognise my name among those thousands."
Vijay Iyer's first jazz album was released 15 years ago but his musical lessons began much earlier.
"I started taking violin lessons when I was three. Jazz happened gradually. I learnt piano by improvising over the course of my childhood. I started messing around with my sister's piano. And little by little it started happening," he says.
Iyer joined a piano group at high school in Rochester, New York and took jazz lessons.
But he still wasn't sure about music as a career and continued his higher studies, graduating from Yale University before completing a masters in physics at the University of California, Berkeley.
Throughout he kept on practising jazz and despite pressure from his parents to choose a professional career, he eventually chose music over science.
"My father was a chemist and both my parents wanted me to take up some stable career," Iyer says, recalling phases of struggle and uncertainty in his music over the years.
Looking back he says: "Now I would not like to wish jazz as a career on anyone."
But his family has come round and is excited about his Grammy nomination, he adds.
Chandrika Tandon lives in New York these days but is originally from the southern Indian city of Madras (Chennai). She is classically trained in both Carnatic and Hindustani styles.
Her album Soul Call draws on the ancient Vedic tradition while trying to connect with the present world.
Tandon's vocals - with chants in eight classical Indian ragas - are combined with Western and Eastern musical arrangements, put together by Tejendra Narayan Majumdar.
"My thanks to the universe for the blessings, to the wonderful musicians especially Tejendra, who created the music arrangements and the brilliant musicians who played on the album," Tandon said.
Soul Call, her second album, was recorded both in India and the US and has been well received by classical music fans.
For the album Majumdar combined traditional Indian sounds such as sarod, sitar and esraj with Western instruments such as the piano, electric bass and classical guitar.
Tandon juggles her singing with a high-flying career in business.
For more than a decade she has worked in senior management at financial institutions all over the world, including the consultants McKinsey. She also serves on the board of New York University's Stern School of Business.
Unlike Tandon, Iyer was never formally trained in Indian music. He attended Carnatic music concerts in California and picked up Indian classical rhythms by ear.
His work combines a wide range of musical traditions, from Indian classical to contemporary hip-hop. He includes Indian classical music in his jazz as it is part of his heritage, he says.
"I was coming of age and making choices about how to be an artist in America," he says.
"I came to realise that my Indian heritage and identity do play a major role for me in figuring out who I was. And that expanded my horizons as an artist."
His latest album Tirtha features two Indian musicians, Prasanna and Nitin Mitta.
At the Grammies, Vijay Iyer is up against musicians like international Hall of Famer James Moody and the Clayton Brothers. Moody died a few days after the nominations were announced in December.
Chandrika Tandon will compete in her category with four others, including composer Bela Fleck.
Related Internet Links
The BBC is not responsible for the content of external sites.