Nepal imposes daily 12-hour power cuts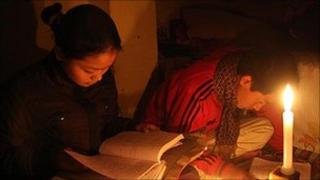 Daily power cuts in Nepal have reached 12 hours a day as the country experiences an unusually cold winter.
Nepal only produces about half its electricity needs, despite massive hydropower potential.
Less than half of the population is connected to the electricity grid and power has to be imported from India.
Over the past few years, load-shedding - the theft of electricity through illegal connections - and power cuts have become daily realities.
A 10-year civil conflict between Maoist rebels and the state, which ended in 2006, has also meant that there has been little investment in Nepal's power sector.
On top of this, the country's power supply was badly affected after the destruction of electricity transmission lines during the Koshi floods in 2008.
The lack of power is particularly acute in winter when there is a shortage of rainfall and low river levels.
The state-owned Nepal Electricity Authority has said that there is not enough water to supply its hydroelectric plants.
It says power cuts will increase to 14 hours a day within the next few weeks.
As homes and businesses struggle to cope with the lack of power, low temperatures across the country have led to a number of deaths.
The Nepalese media has reported that 42 people have died in the southern Terai region.
"We're having a very cold winter, particularly in the Terai and mountain areas," said police spokesman Navaraj Dhakal.
"People who cannot afford warm clothes, or to heat their homes, or people who are sick and old - some of them will die."
Schools and airports in the Terai have closed because of icy winds and thick fog.
The local government is urging people to stay warm and drink warm water.