Will the famous Indian WWII Stilwell Road reopen?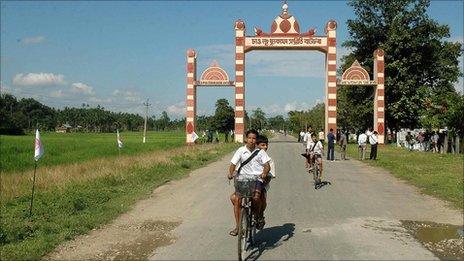 Traders in north-east India are pressing the government to reopen its section of the famous Stilwell Road, constructed during World War II to enable trade and traffic with Burma and China.
A senior official of India's ministry of external affairs told the BBC that no decision has been taken about the future of the 61km (40 miles) Indian section of the road, which connects Assam state with China's Yunnan Province via Burma's Kachin state.
At the time of its completion by the Western allies in 1944, the 1,726km road (1,072 miles) was seen as a lifeline to China in the war against Japan, supplying Chiang Kai-Shek's Kuomintang army.
Initially called the Ledo Road, it was named after the American general Joseph Stilwell who oversaw its construction. It was was built by 15,000 American soldiers (60% of whom were African-Americans) and 35,000 local workers at a cost of $150m. It is estimated that 1,100 Americans died during the construction, as well as many more local people.
Hailed as one of the great engineering marvels of the World War II, the men who built it had to fight their way through jungle and carve a route over mountain passes.
They had to contend with malaria, monsoons that washed away the road as they built it and constant attacks from Japanese forces.
"We have to address many concerns from the possible dumping of Chinese products to the security of trade convoys through an area dominated by myriad insurgent groups," the foreign ministry official said.
"Without a careful weighing of pros and cons, you cannot expect Delhi to rush to a decision."
The official was unwilling to be named, on grounds that he is not authorised to talk to the media officially.
Politicians, citizens groups and businesspeople in India's north-east have welcomed recent efforts to revive the vintage road by the newly elected government in Burma.
Much of the road has been swallowed up by jungle. It is barely passable on foot and is considered too dangerous to use by many because of the presence of Burmese and Indian ethnic insurgents in the area.
Only a small part of the road lies in India - 1,033km (642 miles) is in Burma and 632km (393 miles) is in China.
For businessmen eager to export or import freight, the good news is that work on rebuilding the Great Snake (as the Stilwell Road is called) has begun.
Burma's new government, elected in a controversial poll last year, has awarded a contract to the Chinese company, Yunnan Construction Engineering Group.
It will rebuild the 312km (194 miles) stretch of the road from Myitkyina in Burma's northern Kachin state to the Pangsau Pass (nicknamed Hell's Pass by those who built it) - on the border with India's Changlang district of Arunachal Pradesh state.
This section of the road is in the worst condition and the present contract is expected to fully restore it.
At present the road from Myitkyina to the Chinese border - along with the brief Indian section - is usable.
It is thought that a re-constructed Stilwell Road could cut 30% off the cost of transporting goods between China and India as well as playing a role in facilitating trade between both those countries and the rest of South East Asia.
"The Stilwell Road can change the economy of north-east India and north Burma by turning these less developed and insurgency-ravaged areas into major production hubs for feeding the western Chinese market," said Nazeeb Arif - a former secretary general of the Indian Chamber of Commerce and now with the Indian Tobacco Company.
"We did a study in our chamber earlier in the decade and found this is the only surface link between India and China that can take a substantial part of our growing bilateral trade."
Assam's Industry Minister Pradyut Bordoloi, from India's ruling Congress party, agrees.
"The Stilwell Road, if properly done up, will not only open huge opportunities for trade but also for manufacturing in our region. Only then will India's Look East policy make sense," he said.
Assamese students and youth groups also support the move - they have recently demonstrated in favour of opening the road to cross-regional traffic.
But in addition to unease among some in India that a renovated Stilwell Road could be a source of dumping Chinese goods into its eastern states - there is also concern that a section of the road due to be renovated now is dominated by a host of north-east Indian rebel groups and Burma's Kachin Independence Organisation (KIO).
Delhi is also perhaps not happy that a Chinese company has got the contract to rebuild this final link in the road chain.
But if the Stilwell Road is indeed reconstructed, it could be as strategically important in the 21st Century as it was in the 1940s.
Related Internet Links
The BBC is not responsible for the content of external sites.