Indian navy seizes pirates' Indian Ocean mothership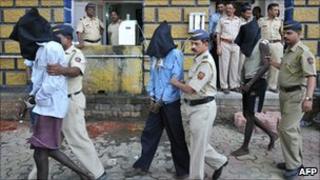 More than 20 pirates have been captured and some two dozen hostages rescued from a hijacked Thai fishing trawler in the Indian Ocean, the Indian defence ministry has said.
The capture followed an operation launched by the navy and coast-guard off India's south-western coast.
It is the second such success for the Indian navy in a week.
Pirates, mainly from Somalia, are active in the Indian Ocean, launching a number of attacks in recent years.
The operation began on Saturday evening when the Indian navy received information that a Greek merchant ship had been attacked by pirates on board high-speed boats, although it had managed to avoid capture.
Two vessels from the Indian navy and coast-guard located the pirates' boats on Sunday morning and followed them back to a hijacked Thai fishing trawler, the Prantalay 11.
The Thai boat had apparently been used by the pirates as a mothership from which they launched raids.
The Indian navy says after an exchange of fire, the pirates surrendered and were captured along with the original crew of the Thai boat.
They are now being taken to Mumbai (Bombay) where they will be handed over to the authorities.
The Prantalay 11 is one of three Thai vessels allegedly captured off the coast of Somalia last year.
One of the boats was sunk by the Indian navy in a similar operation last week.