Lashed girl's body exhumed in Bangladesh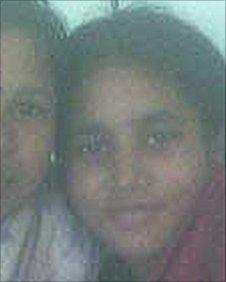 The body of a 14-year-old Bangladeshi girl who received about 80 lashes in public has been exhumed following a High Court order.
Hena Begum's body has been brought to the capital, Dhaka.
On Monday, the court ordered a three-member committee of doctors and experts to conduct another post-mortem to ascertain the reason for her death.
Ms Begum died a week after she was whipped as punishment for allegedly having an affair with a married man.
The lashing occurred last month in Chamta village in Shariatpur district, about 90km (56 miles) from Dhaka.
The High Court order came after the initial post-mortem report said there was "no sign of any external or internal injuries to the body of Hena Begum".
Her family say a village court consisting of elders and clerics ordered the lashing after allegations that she was having an affair with a married man. She died about a week later.
"The court has also asked local doctors who did the [first] inquest and autopsy to appear before the court on the 10th of this month," Attorney General Mahbubey Alam told the BBC.
"We hope that by this time the new autopsy will be done and the report will be available before the court."
Four people have been arrested in connection with the death of Ms Begum. Police say they are looking for 14 others, including a teacher from a local madrassa.
The court's order was partially in response to local media reports which alleged that there was a deliberate attempt to cover up the case as the news had put the local community under the spotlight.
This is the second reported case of a fatality linked to a Sharia law punishment since the practice was outlawed last year by the High Court.
Related Internet Links
The BBC is not responsible for the content of external sites.