Pakistan launches Afghanistan fuel and goods tax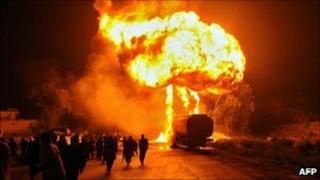 The government of Pakistan's southern province of Sindh is levying a new sales tax on the transport of fuel and goods to Afghanistan, officials say.
The tax will also be automatically levied on convoys transporting similar material to Nato troops stationed in Afghanistan.
More than 80% of Nato's supplies to land-locked Afghanistan are routed through Pakistan.
They start from the port city of Karachi in the south.
The convoys are routinely attacked along the route by militants, and have also become a target for robbers and looters.
"We have implemented the tax under the Afghan Transit and Trade agreement 2010," Mukesh Kumar Chawla, Sindh province minister for excise and taxation told the BBC.
"The tax is levied on all items that are transported. At the present rate we stand to earn at least five billion rupees ($58.82m/£37.03m) annually from this regime."
Earlier in 2010, the Pakistani senate demanded that a tax be levied on Nato convoys because of "the problems they caused to local citizens".