Three WWF officials kidnapped in India 'released'
By Subir Bhaumik
BBC News, Kokrajhar, Assam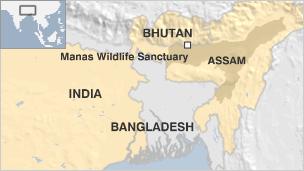 Indian police say that three female wildlife officials who were abducted in the north-eastern state of Assam have been released.
But they say that a ransom demand of 20m rupees ($442,184) has been made for three male officials who were kidnapped with them.
Gunmen seized the officials from the WWF, the global environment campaign, in Manas national park on Sunday.
A search was conducted by security forces, who initially could not say which militant group was responsible.
But now a newly-formed Bodo militant group, called Oornai, says it carried out the kidnappings.
The six were working on a WWF-India survey on the tiger population in the national park.
A WWF-India official said that all were from India's north-eastern states.
They were working in collaboration with a local NGO. Two members of the NGO were abducted, too, but were later released.
The Ultapani range, where the abductions took place, lies in the western part of the Manas Tiger Reserve close to the densely forested, mountainous border with Bhutan.
Bhutanese authorities were asked to help trace the kidnapped officials, an Assam government official said.
The abductions - carried out by a group of masked militants - came within a few hours of a decision by Bodo tribal groups to renew their campaign for a separate state.
Manas is home to 22 of India's 41 endangered wildlife species, including rare wild pigs, birds and one-horned rhinos.
There are an estimated 70 tigers in the park.
Related Internet Links
The BBC is not responsible for the content of external sites.