Pakistan International Airlines strike grounds flights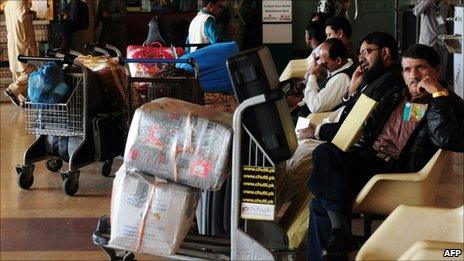 Staff at Pakistan International Airlines (PIA) have gone on strike in protest at a proposed route-sharing deal with Turkish Airlines.
Amid angry scenes, the state-owned carrier cancelled several flights.
At Islamabad airport, protesting staff lay on the runway for hours, stopping planes taking off. Workers punctured the tyres of ground service vehicles.
Staff at the ailing airline say they fear the route-sharing plans may lead to job cuts among PIA's 20,000 staff.
They want PIA to reinstate a number of employees they allege have been fired for opposing the deal.
This is the latest in a series of problems at PIA, the BBC's Syed Shoaib Hasan in Karachi says.
The airline, once one of Pakistan's most profitable and prestigious corporations, has been plagued by falling standards and declining profits for years, he says.
PIA officials told the BBC that only Islamabad airport had experienced significant disruption - and flights were taking off at other airports, albeit with minor delays.
The airline said it had cancelled two international flights - one from Islamabad to Birmingham in England and the other to Istanbul - as well as four domestic ones.
"Today's strike affected about 1,500 passengers overall," spokesman Mashhood Tajwar told AFP news agency.
PIA says a only small group of pilots and support staff were involved in Tuesday's action.
But Sohail Baloch, head of the Pakistan Airline Pilots' Association, said: "Flights are grounded in all major cities. Lahore and Islamabad are completely shut down, while Karachi has been significantly affected."
At Karachi International Airport, there were reports of scuffles between union members and management.
Islamabad airport saw the worst of the disruption.
"Some people went and lay down on the runway this morning to prevent an aircraft from taking off," Mamoon Rashid, PIA's general manager of public affairs, told the BBC.
"Security had to be called. It took a few hours."
PIA has proposed a deal whereby PIA passengers would be transferred to Turkish Airlines for certain international routes.
But union officials say the deal is not in the interest of the carrier. They say the deal involves the sale of PIA's most profitable routes in Europe and the Americas to Turkish Airlines and fear it could lead to massive job losses.
However, Mashood Tajwar, the PIA spokesman, told the BBC that employees had been misinformed and no such deal was going through.
"There is no question of the routes being sold by PIA as they are owned by the government of Pakistan, and PIA only uses them," he said.
"As far as the transfer of passengers to Turkish Airlines is concerned, that has been going on for eight years and it is part of our efforts to streamline PIA operations."
Union leader Mr Baloch insisted the strike was necessary, saying: "We will continue to protest until this deal has been dropped."
Related Internet Links
The BBC is not responsible for the content of external sites.