New Nepal PM: 'No compromises over Maoist integration'
By Rabindra Mishra
BBC Nepali, Kathmandu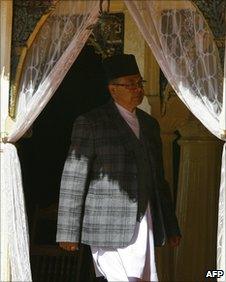 New Nepali PM Jhalanath Khanal has told the BBC that he will not compromise on plans to integrate former Maoist fighters into the security agencies.
Mr Khanal said this would be a priority of his government in order to complete the country's peace process.
The integration of former Maoist fighters has been the most crucial and controversial aspect of Nepal's four-year peace process.
The prime minister said he also wanted a new constitution before 28 May.
On that date the parliamentary term comes to and end.
Mr Khanal was giving his first interview since taking the oath of office on Sunday.
Throughout the course of his interview with the BBC it became clear that Mr Khanal had in fact signed a secret pact with Maoist leader Prachanda in order to get the party's support in his successful bid to become the country's new prime minister on Thursday.
In the pact, they agreed to create a separate force of former Maoist rebels, rather than integrating them into the existing forces.
But in his first interview since taking the oath of office on Sunday, Mr Khanal appear to contradict himself.
He insisted that he would not violate normal recruitment rules or agreements made by political parties prior to the secret pact.
"There have been discussions and agreements regarding the integration of the Maoist fighters and a special committee has been formed to take the matter forward. My government will abide by the earlier commitments," he said.
Mr Khanal said that a priority of his government would be to complete the country's peace process.
But it is widely agreed that this is an objective which will be difficult to attain without a consensus between the three largest parties in parliament - the Maoists, the Nepali Congress and Prime Minister Khanal's party, the Communist Party of Nepal (United Marxist-Leninist).
The Nepali Congress says that it is "extremely angered" by the secret pact between Mr Khanal and Prachanda and has decided to stay in opposition.
That will complicate matters for the new government.
The new coalition is also seen by some as an attempt to snub neighbouring India's attempt to stop Mr Khanal and Prachanda from leading the new government.
"I don't think any government in Nepal should harbour an anti-India attitude. Both India and China are our close neighbours and we must maintain balanced and fruitful relations with both of them," Mr Khanal said.
India is seen as playing a crucial role in Nepal's politics. Virtually all new prime ministers make their first foreign visit to India.
Mr Khanal said that Indian Prime Minister Manmohan Singh was the first to make a diplomatic call to congratulate him on becoming Nepal's new leader and promised the continued support of India to his country.
But the new prime minister said that he would probably make his first overseas trip to Cambodia rather than India because he wanted to see for himself how the conflict-ridden country has rehabilitated itself over the years.
Related Internet Links
The BBC is not responsible for the content of external sites.