Bangladesh village shaken after lashed girl's death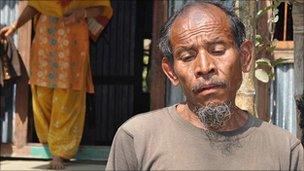 Looking at the mobile phone picture of his daughter, labourer Dorbesh Kha weeps uncontrollably.
He says he will never forget the way she suffered and he will never forgive those responsible.
Mr Kha's youngest girl, 14-year-old Hena Begum, was accused of having an affair with her married cousin and publicly lashed in a punishment meted out by villagers under Islamic Sharia law.
She died in hospital a week later and on Monday her body was exhumed for another post-mortem examination to ascertain the cause of her death.
Her family members claim she died of her injuries.
While the initial post-mortem said there were no signs of external or internal injuries, the latest one concluded that she had bled to death because of multiple wounds.
Mr Kha was there to witness the horror of his daughter being lashed publicly.
Sitting in front of his small tin-sheet house in the village of Chamta, Mr Kha says the grainy picture on his phone is one of the few things left which remind him of his daughter.
"I feel like I am left alone now. My world goes blank whenever I remember my daughter's face. I don't know whether I will ever overcome this tragedy."
Life will never be the same again in this picturesque village, surrounded by lush green paddy fields, wetlands and clusters of small tin-sheet houses. It is a remote place with a close-knit community and still doesn't have proper road access.
Hena Begum's family members say that a village court consisting of a group of village elders and a Muslim cleric found Hena Begum and her cousin Mahbub Khan guilty of having an affair. They also passed the sentence.
Mr Kha says he protested vehemently when his daughter was dragged out to be given the lashing in a nearby house.
Hena Begum's friend, another cousin Minu Begum, bursts into tears when she recounts what happened on that day.
"They tied her legs and started lashing her continuously. At one stage, she collapsed. But they did not stop. They forced her to stand again and continued lashing until she fainted and fell to the ground," she said.
For his part, Mr Kha was also lashed and fined and has since left the village with his family. Some of his relatives have expressed doubts as to whether the death of Hena Begum was related to the lashing.
But following a high court order, a team of police officers has now descended on the village to conduct a detailed investigation. Four people, including the local Muslim cleric have been arrested and many others are still missing.
Most villagers were surprised and perplexed by the local and international attention the incident received. Some say the peace and tranquillity of the village has been shattered and it will take time before it can return to normality.
Bangladesh has been trying to portray itself as a moderate Muslim-majority nation rather than an Islamic country. Nearly 90% of the country's estimated population of 160 million adhere to a moderate version of Islam.
However, the re-emergence of fatwa and Sharia law in rural areas has shocked many community leaders.
"This is against the rules of Islam. These kinds of laws can apply in Saudi Arabia but not in our country and the verdict was illegal. We don't have these strict Sharia laws in our country. The villagers should have stopped this," says Haji Abdul Wahab Bepari, chairman of the Naria sub-district.
Mr Kha and his relatives fear that his daughter's death may be forgotten, as has happened in other cases.
"The thing that happened to my daughter, the kind of justice she received, it should not happen to anyone else. It must stop," says Mr Kha.
Activists say dozens of fatwas or religious rulings are issued in the rural areas of Bangladesh. This is the second reported death linked to Sharia punishments since they were outlawed last year by the high court.
The question is how far the ban by the government and the court is effective outside the capital Dhaka, especially in the remote rural areas of Bangladesh.