Hamid Karzai says Afghanistan aid teams must go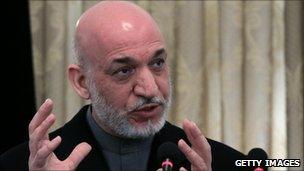 Afghan President Hamid Karzai has accused foreign reconstruction teams of undermining efforts to build up the state's institutions.
He said the Provincial Reconstruction Teams were like a parallel system of government, and they would have to go.
The teams build roads and schools and carry out other aid projects, funnelling billions of dollars into areas outside Kabul.
Mr Karzai said the teams should leave as Afghan forces take over security.
He was speaking in Kabul after returning from an international conference in Munich.
"Afghanistan clearly explained its viewpoint on Provincial Reconstruction Teams and structures parallel to the Afghan government - private security companies and all activities or bodies which are hindering the Afghan government's development and hindering the governance of Afghanistan," he said.
He has been critical of the PRTs and private security firms in the past.
Mr Karzai said the teams should leave the bases they operate from when security in that area is handed over to Afghan forces.
He is due to announce a programme for foreign forces to transfer responsibility for security to Afghan forces in March.
A spokeswoman for the Nato-led forces in Afghanistan said it was too early to discuss the specifics of the transfer process.
There are currently about 150,000 foreign troops in Afghanistan fighting the Taliban insurgency.
Related Internet Links
The BBC is not responsible for the content of external sites.