Pakistan cabinet quits for revamp amid economic crisis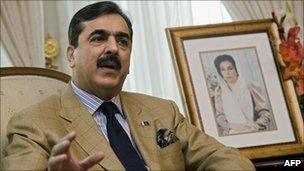 Pakistan's cabinet has quit as part of plans to reduce the number of ministers by more than a third and cut government spending amid an economic crisis.
Prime Minister Yousuf Raza Gilani paid tribute to his cabinet colleagues as he announced the move live on television.
He is to appoint a smaller cabinet to meet political opponents' demands.
After devastating floods last summer, Pakistan is under pressure to usher in economic reforms and meet IMF targets agreed in a 2008 bail-out package.
Trimming the cabinet was one of a series of demands made last month by the opposition Pakistan Muslim League-N (PML-N) party of Nawaz Sharif.
They gave the prime minister 45 days to implement the reforms or risk having the ruling Pakistan People's Party (PPP) kicked out of government in Punjab province, a PML-N stronghold.
Ministers submitted their resignations on Wednesday in a cabinet meeting presided over by Prime Minister Gilani.
In a live TV statement later, Mr Gilani praised the cabinet, saying it had surmounted a number of economic, political and security challenges in nearly three years of its existence.
The proposal is to cut the number of ministers and deputy ministers from 60 to less than 40.
Under the constitution, a government is supposed to have no more than 49 ministers and five special advisers.
Including special advisers, the total number of officials who quit on Wednesday was 80.
A government spokesman said the prime minister would announce a new cabinet within days, after consulting President Ali Asif Zardari, who leads the PPP.
The BBC's Aleem Maqbool in Islamabad says it is likely to be a popular move.
But he says it exposes the weakness of the current administration, which has a slender majority in parliament.