Afghanistan's Jalalabad university 'hit by bomb attack'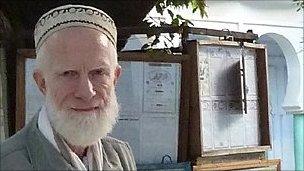 A newly-created Islamic university in the Afghan city of Jalalabad has been badly damaged in a bomb attack, its founder has told the BBC.
John Butt said that while no-one was injured in the blast, "considerable damage" was done to the Islamic University of Afghanistan.
He said that recently the university had received numerous anonymous threatening letters.
Other Islamic schools in Jalalabad had also had warnings, he said.
"I won't say that the attack on the university was carried out by the Taliban," Mr Butt told the BBC in an interview from Delhi, "because the word 'Taliban' means religious student and no student would attack an Islamic university.
"The attack, I believe, was carried out by militants objecting to Afghans being taught in their own country, instead of going to Pakistan for religious education."
The city of Jalalabad is close to the Afghan border with Pakistan's lawless tribal areas, where many militants are believed to be recruited and trained.
Police say that the Taliban are responsible for the attack.
Mr Butt - a former BBC Pashto service employee - said that it was also probably the case that militants did not like him as a Westerner helping to run a university in Afghanistan.
Although he has in the past been denounced by the Taliban as a Christian missionary or an "orientalist", the BBC's Bilal Sarwary in Kabul says that he remains the most respected foreign Islamic scholar in the country.
The only Western graduate of Darul-Uloom Deoband, South Asia's largest Islamic school - Mr Butt has spent most of the past 40 years living among the fierce Pashtun tribes who inhabit the area between Afghanistan and Pakistan.
Home for him, until recently, was a tiny village in Pakistan's Swat valley. But he was forced to leave the area because of recent heavy flooding.
Related Internet Links
The BBC is not responsible for the content of external sites.