Pakistan airline strike disrupts flights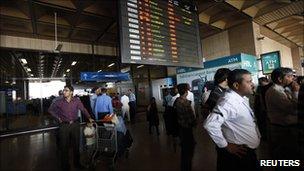 A second day of strike action at Pakistan International Airlines (PIA) has caused significant disruption.
Airline spokesman Mashood Tajwar said several flights were cancelled at Islamabad airport, leading to delays.
In addition there were scuffles between strikers and PIA management at Islamabad and Karachi airports.
Staff want PIA to reinstate a number of employees they allege have been fired for opposing a proposed route-sharing deal with Turkish Airlines.
Pilots and crew were prevented from getting to aircraft, witnesses said.
"Thousands of passengers have suffered. We are trying our best to ring up passengers of flights which are likely to suffer long delays and tell them to wait until our next call before they leave for the airport," Mr Tajwar said.
The PIA website said that over 20 national and international flights were delayed or cancelled because of "operational constraints".
Prime Minister Yousuf Raza Gilani has ordered his defence minister to resolve the strike "urgently", calling for a negotiated agreement between staff and management "in the larger interest" of the national carrier, his office said.
The strike is the latest in a series of problems at PIA.
Correspondents say the airline, once one of Pakistan's most profitable and prestigious corporations, has been plagued by falling standards and declining profits for years.
Related Internet Links
The BBC is not responsible for the content of external sites.