India minister Amin Khan quits over president remark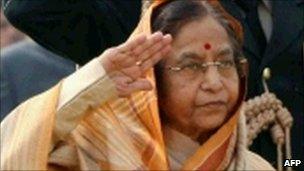 A minister in the Indian state of Rajasthan has quit after a row over disparaging remarks he made about President Pratibha Patil.
Amin Khan said she was appointed president for services to the ruling Congress party, which included cooking food and washing dishes in former prime minister Indira Gandhi's house.
His comments were widely condemned as offensive to women.
Mr Khan said he merely meant to suggest the party rewarded loyal workers.
Mrs Patil, a long-time Congress party member, was appointed president in July 2007.
She is known to be close to the party chief Sonia Gandhi, daughter-in-law of Indira Gandhi.
"The president cooked food and washed dishes in Indira Gandhi's kitchen in 1977," Mr Khan told a gathering of Congress workers on Tuesday.
"She never asked for anything in return, so she was finally rewarded by the Congress with the president's post," he said.
India's opposition Bharatiya Janata Party also criticised his statement saying it was derogatory to women.
Mr Khan said that his comment was misconstrued and that he wanted to highlight how Mrs Patil was rewarded for her dedication to the party .
India's president is the head of the state and has largely ceremonial and symbolic duties.
Related Internet Links
The BBC is not responsible for the content of external sites.