India and Pakistan agree to resume peace talks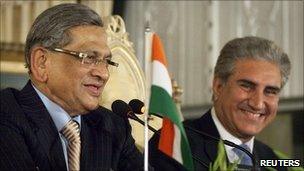 India and Pakistan say they have agreed to resume peace talks "on all issues".
Peace moves were put on hold after Pakistan-based militants attacked Mumbai in 2008, although the sides have met a number of times in the past year.
The nuclear-armed rivals' decision to discuss key issues in the dispute came after top officials met at a summit in Bhutan at the weekend.
Pakistan's foreign minister will visit India by July to review progress in the dialogue, a joint statement said.
Before then, senior officials from both sides will get together to discuss a range of issues which have harmed relations for decades.
"They have agreed to resume dialogue on all issues following the spirit of the Thimpu meeting between the two prime ministers," a joint statement said, referring to weekend talks in the Bhutanese capital.
BBC correspondents say no-one is expecting swift progress on issues at the heart of the dispute.
"The two countries will work to narrow the trust deficit so that we can discuss all bilateral issues," Indian Ministry of External Affairs spokesman Vishnu Prakash told the BBC.
"We are picking up the threads again, we have to move forward step by step. We are taking baby steps."
Pakistan's Prime Minister Yusuf Raza Gilani said he welcomed "the important decision taken both by Pakistan and India to resume [a] full spectrum of dialogue".
In a statement, Mr Gilani said the peace negotiations had resulted from his talks with Indian Prime Minister Manmohan Singh.
As well as the main disputes over counter-terrorism and the Himalayan territory of Kashmir - which both countries claim - the talks teams will look at economic issues and a number of other, smaller, territorial disagreements.
Before the Mumbai attacks, the two sides held formal peace talks known as a "composite dialogue" for several years but made little headway, apart from a number of confidence-building measures.
These included cross-border transport links, among them a bus service linking divided Kashmir, and cricket matches between the two countries.
There was no fanfare around Thursday's low-key announcement, which came out in statements on the two countries' foreign ministry websites.
It is thought officials are trying to play down expectations - mistrust is still high on both sides.
In India, many people feel Pakistan has not done enough to tackle militancy following the Mumbai attacks.
Indian Foreign Secretary Nirupama Rao told the BBC that the fall-out from the Mumbai attacks - in which gunmen killed 166 people - was still "an issue of the greatest concern".
"Terrorism out of Pakistan which has targeted India is a legitimate concern and must be addressed," Ms Rao said.
After initial denials, Pakistan acknowledged that the Mumbai attacks had been partially planned on its territory and that the only gunman captured alive was one of its citizens.
But despite charging seven people in connection with the attacks, the Pakistani authorities have yet to convict anyone.
Relations with India have been slowly improving, although talks ended in acrimony last July with the two sides indulging in a public spat over Kashmir.
Related Internet Links
The BBC is not responsible for the content of external sites.