Nepal PM Khanal appoints three ministers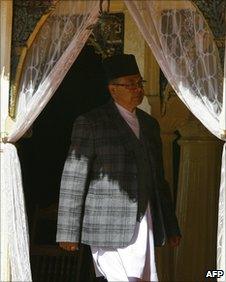 Nepal's Prime Minister Jhalanath Khanal has appointed his first ministers since being elected a week ago.
Mr Khanal named three colleagues who have still to be given portfolios.
Bharat Mohan Adhikari, Bishnu Poudyal and Gangalal Tuladhar are all members of Mr Khanal's CPN-UML party. Mr Tuladhar will be government spokesman.
The cabinet formation has been delayed as the PM has failed to finalise a power-sharing deal with the Maoists, with whose support he won the election.
He was elected by legislators after more than seven months of stalemate and 17 attempts.
The three ministers were sworn in on Thursday.
Related Internet Links
The BBC is not responsible for the content of external sites.