Lahore shootings fuel US-Pakistan row
By Syed Shoaib Hasan
BBC News, Karachi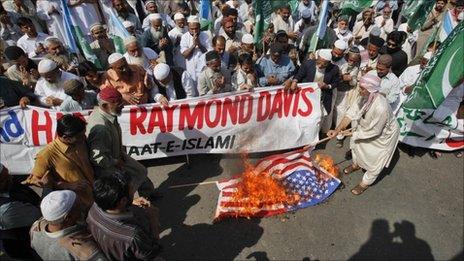 The diplomatic spat between Pakistan and the US over the arrest of an American citizen is escalating and threatens to derail relations between the two countries.
Raymond Davis has been in police custody in Lahore since 27 January. He admits shooting dead two Pakistanis, in what he says was an act of self-defence as they tried to rob him.
A third person - a passer-by - was run over by a US consulate vehicle which came to rescue Mr Davis.
To make matters even worse, the widow of one of the men Mr Davis admits killing committed suicide last week, saying she feared the government would not be able to provide her justice.
Her death has been lapped up by the local media, which is carrying loud calls for Mr Davis to be convicted for murder.
The deaths have inflamed already tense relations between the United States and Pakistan, a crucial ally in the fight against militants.
The US is demanding Mr Davis be released, saying he is a diplomat with immunity from prosecution.
In the immediate aftermath of the shootings incensed Lahore residents took to the streets. Among Pakistanis, anti-American feelings which had already been running high rose still further.
Pakistan's government response was unequivocal - it said Mr Davis had been charged by police for the illegal possession of fire arms. It also said his claims of self-defence were being investigated.
However, he has since been charged with murder and faces a possible death sentence.
Security officials who prefer to remain anonymous say Mr Davis is in fact a spy, although this is impossible to confirm. These sources say he was detained once before in December 2009, for "suspicious activities" in Lahore.
The initial response from the US authorities was cautious - they said they were in contact with Pakistani officials. They said all necessary co-operation would be extended in regard to the matter.
But this changed within 48 hours.
In a press release on 29 January, the US embassy in Islamabad said one of its diplomats had been "unlawfully detained by authorities in Lahore".
Since then, securing the swift release of Mr Davis has been the sole focus of US diplomacy with Pakistan.
From the US ambassador in Pakistan to visiting Congressional delegations, the entire US diplomatic corps has conveyed a single message: Anything else will have severe consequences for all bilateral interactions.
One former senior Pakistani diplomat who did not want to be named said Islamabad had so far "shown a lack of clarity in its approach" in the case.
According to the diplomat, the government was being ambiguous about Mr Davis's status - possibly due to the intense media scrutiny and public pressure.
Zahid Hussain, a senior journalist and author based in Islamabad, says: "The matter is now out of the hands of the Pakistan government.
"The local media has definitely been sensationalising the entire episode, but that's a common weakness here. Ultimately the courts will now decide what to do with Mr Davis."
Both Mr Hussain and the former diplomat share the view that even if it is established that Mr Davis has diplomatic immunity, it may not save him.
"Pakistan's 1973 constitution does not grant diplomatic immunity in the case of criminal offences in certain circumstances," says Mr Hussain.
US outlets and politicians have also been upping the ante. The US media is filled with reports saying the US government is considering all options. These apparently include everything from postponing forthcoming bilateral talks, to kicking the Pakistani ambassador out.
All of this has been vociferously denied by the US embassy in Pakistan. But even it is clear that Mr Davis's immediate release is essential for all other dialogue to continue.
Some now fear the row has escalated so far it could seriously erode trust in what is already a difficult relationship, with far-reaching consequences for regional security.
The US is seen to enjoy immense leverage with Pakistan - it's the country's biggest aid donor providing $3bn (£1.9bn) a year.
But Washington does not always get its way, despite all the cash.
Only last autumn Pakistan angrily closed the main border crossing with Afghanistan after a Nato helicopter assault killed two Pakistani soldiers. Scores of Nato supply vehicles were destroyed in gun and arson attacks while the crossing was shut.
In December, the CIA confirmed it had withdrawn its top spy from Pakistan, amid threats to his life. The Islamabad station chief had been identified in a lawsuit linking him to drone strikes.
Maleeha Lodhi, Pakistan's former ambassador to the US, says of the Lahore shooting row: "I am sure it will be resolved eventually, but it will exacerbate the trust deficit.
"Both Pakistan and the US stand to lose in a prolonged stand-off. But mutual need doesn't always translate into mutual trust."
That may be the rational outlook but there is much emotion involved in the love-hate relationship between Pakistan and the US. At the moment both appear to be focusing on national pride and an immediate solution appears unlikely.
Related Internet Links
The BBC is not responsible for the content of external sites.