Thailand 'deported' Burmese Rohingyas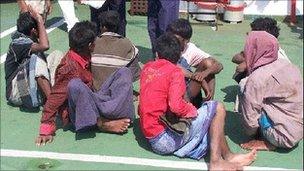 Thailand's foreign ministry has said that it deported 91 Rohingya refugees who were found by police in India's Andaman and Nicobar islands last week.
The refugees were deported to Burma near Ranong province, a Thai foreign ministry spokesman said.
He denied that the refugees had been set adrift with little food and water in an engine-less boat and said he had no idea how they travelled further.
Indian doctors and police said the refugees were starving and dehydrated.
They said 25 were admitted to hospital.
Thousands of Rohingyas - a Muslim minority group in Burma - have fled to Bangladesh to escape persecution.
An estimated 200,000 Rohingyas live in refugee camps in Bangladesh.
Many of them - especially those living in unofficial camps - attempt to escape poor conditions by trying to get to south-east Asia by sea.
The Rohingyas have said they were trying to enter Malaysia illegally through Thailand with the help of "agents" before they were caught by the Thai navy.
The refugees told police they had been set adrift with little food and water in a boat without an engine by the Thai navy.
Thai foreign ministry spokesperson Thani Thongphakdi said in a statement that the group of 91 "illegal migrants" were found ashore in Trang province and were "handled according to the country's immigration laws".
"Since they were found to be [from Burma] they were later deported at a border crossing in Ranong province to Burma," Mr Thongphakdi said, adding that the move was "in line with their wish".
He said that Thailand's authorities had "no knowledge how this group could have travelled further".
The Rohingyas who are now in Andamans have told Indian police that they suffered beatings and torture at the hands of the Thai law enforcing agencies after their arrest in Trang province.
"Later we were taken to the sea and put on a boat which had no engine and with very little food and water in it," one of the Rohingyas told the police in a recorded statement.
Thailand has denied these charges.
In December 2008, nearly 300 Rohingyas were rescued from the Andaman Sea after their boats were towed to the high seas by the Thai navy and their engines removed.
Related Internet Links
The BBC is not responsible for the content of external sites.