Pakistani singer Rahat Fateh Ali Khan released in Delhi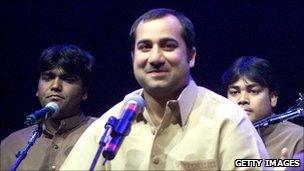 Pakistani singer Rahat Fateh Ali Khan has been released after being held at Delhi airport for allegedly carrying a large amount of undeclared cash.
Officials say the singer has been allowed to leave the airport, but his passport has been confiscated
He was about to fly to the United Arab Emirates on Sunday afternoon when he was stopped.
He has been summoned for further questioning later in the week.
The BBC's Aleem Maqbool in Islamabad says the incident became headline news in Pakistan. Mr Khan's wife spoke to Pakistani television channels, saying her husband did not know he was doing anything wrong.
Mr Khan, 37, who has sung several Bollywood hits and performed in India in the past, had flown into Delhi from Karachi.
He is the nephew of Pakistani singing legend Ustad Nusrat Fateh Ali Khan.