India's foreign minister criticised for UN speech gaffe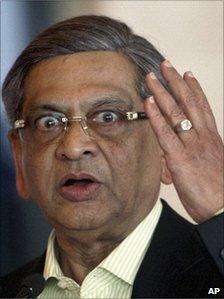 India's main opposition party has criticised Foreign Minister SM Krishna for reading out the speech of the Portuguese foreign minister at the UN.
Mr Krishna had no "moral right" to continue after he brought "shame" to India, senior Bharatiya Janata Party (BJP) leader Venkaiah Naidu said.
Mr Krishna read out the wrong speech on Saturday for about three minutes before being corrected by an official.
Later, he said it was "a mistake" and that there was "nothing wrong in it".
Explaining the blunder, Mr Krishna said these things happen because many of these speeches make the same initial points.
"There were so many papers spread in front of me so by mistake the wrong speech was taken out," the Press Trust of India (PTI) quoted Mr Krishna as saying.
But Mr Naidu insisted the country was owed an explanation.
"Was it a negligence or mistake? Prime Minister Manmohan Singh should explain to the nation why and how it happened at a world forum and he should also explain what are the steps being taken in this regard,"
"It was a glaring example of how this government was functioning and how ministers are working," he said.
The minister has lost his "moral right" to continue in the post, Mr Naidu argued.