US Senator to plead Raymond Davis immunity in Pakistan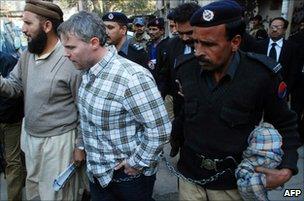 Influential US Senator John Kerry has arrived in Pakistan in a bid to resolve a row sparked by the arrest of a US citizen for killing two men in Lahore.
Pakistan's fragile ties with the US have been thrown into crisis since Raymond Davis was taken into custody after confessing to the shootings.
Mr Kerry's arrival coincided with President Barack Obama saying that Mr Davis should have diplomatic immunity.
The president said it would be untenable if diplomats were prosecuted.
Earlier the US government announced that it would prove before a Pakistani court later this week that Mr Davis has diplomatic immunity.
The 36-year-old was remanded for 14 days on Friday over last month's killings.
He has said that he shot the two men in self-defence as they were trying to rob him.
The case is threatening to derail US ties with Pakistan, a crucial ally in the fight against militants.
Mr Kerry, who is also the chair of the Senate Foreign Relations committee, aims to find a resolution to the issue and lower the pressure on Pakistan's coalition government, an American official told the AFP news agency.
He will hold talks with senior officials in Islamabad and reaffirm US support for Pakistan, the US Embassy in Islamabad said.
President Obama for the first time entered the argument on Tuesday, saying that while he was not "callous" about the shooting, Mr Davis enjoyed diplomatic immunity under the Vienna Conventions.
"We expect Pakistan... to abide by the same convention," the president told a news conference.
"If they [diplomats] start being vulnerable to prosecution, that's untenable."
Mr Davis is charged on two counts - murder and possession of illegal weapons.
The court has ordered the Pakistani government to clarify US embassy claims that he has immunity.
Mr Davis has reportedly been sent to the high-security Kot Lakhpat jail in Lahore. His next hearing is scheduled for 25 February.
It is not clear what his role in Lahore was - American officials in the capital Islamabad have said only that he was an US embassy employee who was part of the "administrative and technical staff".
The Associated Press news agency says Pentagon records show that Mr Davis is a former Special Forces soldier who left the army in 2003 after 10 years of service.
Related Internet Links
The BBC is not responsible for the content of external sites.