UN report says violence against Afghan children growing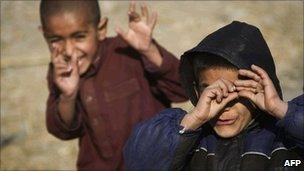 An increasing number of children are being killed and injured in the Afghan conflict, mostly by the Taliban and other militants, a new UN report says.
The study covers a two-year period from 1 September 2008, which the UN says was marked by increased military activity and worsening security.
It said suicide, rocket and bomb attacks as well as ongoing military operations were to blame
It also cited examples of militants using children to carry out attacks.
UN Secretary General Ban Ki-moon called for greater efforts to end violence against children.
Civilian and military casualties in Afghanistan are at levels not seen for a decade - last year more than 2,400 civilians died, with roadside bombs the biggest source of casualties, correspondents says.
But Monday's report found that civilian casualties linked to pro-government forces had decreased.
It said three quarters of civilian casualties in 2010 were linked to the Taliban and other militant groups - an increase of 53 percent compared to the previous year.
During the two-year period, almost 1,800 children were killed or injured because of conflict-related violence. The secretary general said that the figure is assumed to be "underreported" because of the difficulty in gaining access to conflict areas.
"In the first half of 2010, there was a 155% increase in child deaths through improvised explosive devices and suicide attacks attributable to armed opposition groups as compared to the same period in 2009," the report said.
It said children were often killed or injured when insurgents targeted checkpoints and buildings near residential areas.
Mr Ban also expressed "grave concern" at the killing of children by armed groups on suspicion that they were spies or allegedly supported international troops.
"At least nine cases were reported of children executed on suspicion of spying for the international military forces, including the public hanging by the Taliban of a seven-year-old boy reported in Helmand province in June 2010," the report said.