Politician promises free laptops for Assam journalists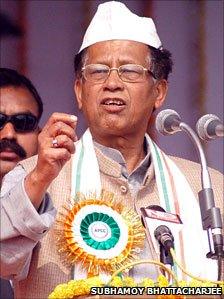 The chief minister of India's north-eastern state of Assam has promised a free laptop to local journalists with at least 10 years experience.
The move has been condemned by the opposition as a "crude attempt to woo the media" ahead of state elections.
But Tarun Gogoi said his ruling Congress Party promised laptops for the "welfare of journalists" in its election manifesto five years ago.
Journalists in Assam have received gifts from politicians in the past.
But Assam's opposition leader Prafulla Kumar Mahanta criticised the move.
"This government thinks the media can be bought by a few laptops," Mr Mahanta said.
Mr Gogoi denied allegations of bribery, saying his government was only helping journalists without laptops to fulfil their duties.
"This has nothing to do with elections. I am not bribing anyone," he told the BBC.
"Journalists who move around face major problems doing stories from remote areas because they don't have laptops, so my government wants to make things easy for them."
He said his government was preparing a list of eligible journalists and editors in consultation with the owners of the newspapers.
Ten years ago Congress politician Mani Kumar Subba gave away free mobile phones to journalists who came to interview him.
Mr Gogoi's predecessor Hiteswar Saikia gave away a licence for a liquor shop to the wife of a senior local journalist.
Many journalists have been gifted cars, houses and free air tickets from ruling politicians.
Related Internet Links
The BBC is not responsible for the content of external sites.